The Luigi's Mansion Wiki!
The year 2021 marks our 11th year of providing haunted yet valuable information about the Luigi's Mansion universe! Thank you for your continued support!
Make sure to read the Guidelines and Rules before starting.
There are currently 589 articles and there are 32,756 contributions on this wiki.
Welcome to our your mansion...
All Luigi's Mansion games are action-adventure video games that mix horror themes in a friendly way for almost all audiences, perfect to play in Halloween season. This is one of the few games in the Mario franchise in which Luigi is the protagonist, rather than Mario.
Featured articles
Visual Tricks, or A-4, is the fourth mission in the Gloomy Manor of Luigi's Mansion: Dark Moon. It is the introduction of the Dark-Light Device, Spirit Balls, and Boos, as well as Greenies wearing sunglasses, which need to be vacuumed off to capture it. Luigi must find who's making everything disappear, and use the Dark-Light Device to make everything reappear.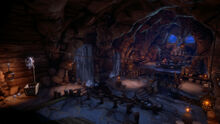 The Spectral Catch is the 12th Floor of Luigi's Mansion 3, unlocked by beating Nikki, Lindsey, and Ginny. The Boss fought here is Captain Fishhook. It is seemingly a pirate themed restaurant with a large outside segment, like most cafés. However, this one is very large. The layout is probably one of the most simple of all the floors. There is a elevator hall that turns west, then northwards there is a door to the pirate grotto. Continuing north there is a huge beach, accompanied by an even larger ocean.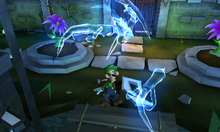 The Pinwheel Gate, or B-2, is the second mission in the Haunted Towers of Luigi's Mansion: Dark Moon. In this mission. Luigi must track down the five Hiders that each stole a vane off of the pinwheel gate, thus ceasing its function and preventing Luigi from getting into the Hollow Tree.









Did You Know?
Luigi's Mansion Trailers
Helping out
To write a new article, just click the link in the box below.
Not sure where to start?
The Mansion Needs your help! Please help contribute to this wiki so the after-worldwide knowledge of Luigi's Mansion grows stronger!
Alerts & News
VexMania has returned to the staff team as a discussions and content moderator!
Ninfan64 has been promoted to a discussions moderator, due to their recent contributions on the wiki!
YEETMASTER43 has been promoted to content moderator due to their contributions!
LuigiMaster41 has been promoted to admin, due to his amazing contributions to the wiki!
Mansion Builders online! Do you qualify for the legendary award?
Please create fan made articles about Luigi's Mansion at the Fansion Wiki, rather than here!
Be sure to check out the Luigi's Mansion Reddit Page!
Adding Content
Activities
Affiliates
The Luigi's Mansion Wiki gets its share of supporters including:
If you are interested in becoming an affiliate of Luigi's Mansion Wiki, please send a message to a Bureaucrat.
Policies and more
This wiki has an assortment of different pages that are meant for rules, help, and more.
Community content is available under
CC-BY-SA
unless otherwise noted.