Hello!
Welcome to our wiki. Many thanks to you for the edit you made on the "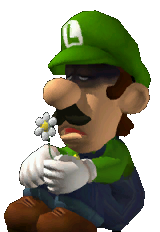 " page. There is many to do around here, so we hope you'll stay with us and make many more improvements on Luigi's Mansion. All new users are welcome and you are no exception; so sign your signature here if you want to help this wiki. You can discuss important issues here. Here are a few important tips you must know before you set off contributing!
You can also check out the "useful pages" page as well as the Main Page for links to many different aspects of the Luigi's Mansion Wiki.
As a member of the Luigi's Mansion Community, you are invited to join our clan, a competitive and recreational gaming alliance. If you are interested, please visit the clan page for more information.
When you're on talk pages, don't forget to sign using four tidles (~~~~). When you save, this will produce your user name and a link to your talk page, so that others can recognize and speak to you!
We're really happy to have you here as a part of our community! We look forward to talking with you. I hope you enjoy your time on the Luigi's Mansion Wiki.
Please leave a message on my talk page if I can help with anything! TheCheckmeister (talk) 21:23, March 27, 2020 (UTC)
Community content is available under
CC-BY-SA
unless otherwise noted.